"Reading Recovery is the best evidence yet of the direct link between good design and education excellence."¹
– K.G. Wilson and B. Daviss
WHAT IS READING RECOVERY?
Reading Recovery
Reading Recovery is a well-researched, effective early literacy intervention. It operates in many New Zealand primary schools and is supported and funded by the Ministry of Education.
Reading Recovery:
can dramatically reduce the number of children having reading and writing difficulties in a school

p

rovides a second chance for six year old children who are not getting underway with literacy learning

provides individual, daily intensive teaching for the lowest achieving readers and writers in a school at six years of age
lifts children's achievement in a short time to an average level
builds on each child's strengths through individually designed lessons
promotes change across a series of lessons according to individual needs of children
 Royal Road School currently have NINE year 2 students on the program – 2015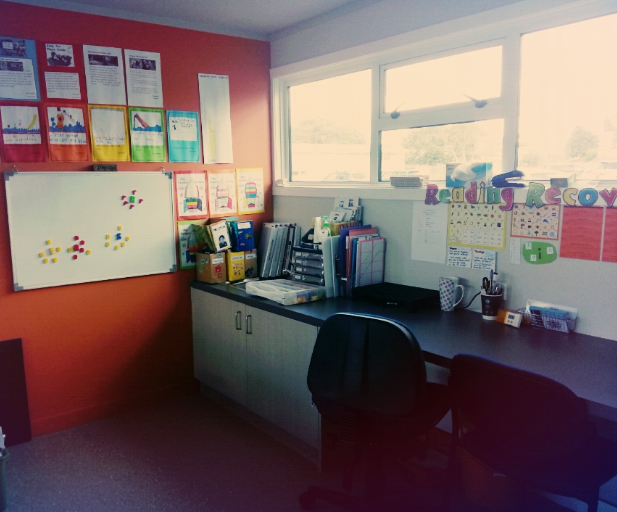 Lesson Objective
The objective of Reading Recovery lessons is to promote accelerated learning so that students catch up to their peers, close the achievement gap as quickly as possible, and can benefit from classroom instruction without supplemental help.
Individually Designed Lessons
Daily 30-minute Reading Recovery lessons are individually designed and individually delivered by specially trained teachers. Using a wide range of procedures1, teachers make moment-by-moment decisions within each lesson to support the individual child.
Assessment Based on Systematic Observation
In Reading Recovery, careful observation of reading and writing behaviors guides teaching decisions. As teachers gather data they align their teaching with what a child actually does.
Reading Recovery teachers are trained to use Clay's An Observation Survey of Early Literacy Achievement2 to assess each child's strengths and confusions.
The first 10 sessions provide further opportunities for assessment as the child engages in reading and writing.
The teacher takes a running record of the child's progress on text reading every day and uses the data to plan future lessons.
The teacher uses other observational data to inform instruction: daily lesson records, students' writing, and change over time in reading and writing vocabulary.
Lesson Content
Each lesson consists of reading familiar books, reading yesterday's new book and taking a running record, working with letters and/or words using magnetic letters, writing a story, assembling a cut-up story, and reading a new book.
The teacher creates opportunities for the child to problem solve and provides just enough support to help the child develop strategic behaviors to use on texts in both reading and writing.
Phonemic Awareness, Phonics, Spelling, Comprehension, and Fluency
Every lesson incorporates learning about letter/sound relationships.
Children are taught to hear and record sounds and to work with spelling patterns.
Reading Recovery encourages comprehension and problem solving with print so that decoding is purposeful and students read fluently.
Outcomes of Lessons
A series of Reading Recovery lessons has two positive outcomes:
The child meets grade-level expectations and can make progress with classroom instruction, no longer needing extra help. (This is the outcome for approximately 75% of the children with a complete Reading Recovery intervention.)
The child makes significant progress but does not reach grade-level expectations. Additional evaluation is recommended and further action is initiated to help the child continue making progress.
Resources to Help Kids Learn About the Alphabet
The best way to help kids learn the alphabet is, in my opinion, via fun and games. Here are some resources you might like for your youngsters.
Alphabet Fun
I Spy: One of the oldest games, this is nevertheless a great one as it needs no equipment and can be played anywhere. If you see a piano for example, you would tell your child, "I spy with my little eye, something beginning with "p." Your child tries to work out what it is.
Alphabet Books: Look for printed alphabet books with pictures that will interest your child, and large simple letters. Children will often learn such books by heart, an important stage in the road to real reading. Also consider making your own alphabet books, perhaps from photos of your child's toys or of family members.
Making Letters: Tracing, painting, and modeling letters from play dough are all excellent activities to help children focus on the way a letter is made. Keep it fresh by painting outside with a wall painting brush and watercolor or trying other different paints, brushes, and surfaces. I like to teach kids from the start how to make a letter according to the correct model for their school, but some people think this is me being a fuddy-duddy.
Hide the Letter: It's great to have letters printed on cards, or plastic letters or even foam ones for the bathtub. Incidental remarks like "Oh, what is that 'W' doing under the tap?" or "Mummy has hidden the 'B.' Can you find it?" take only a few seconds, but constant repetition means that over time it aids letter recognition.
Magnet Letters: Having magnet letters attached to the fridge or a simple metal baking sheet means you have a ready source for simple games of hide-the-letter, word making, word muddling, etc. Alphabet blocks are wonderful too. Make it a habit to leave little messages or muddled up words on the fridge each day, and your child can do the same.
Toy Letter: One simple way to encourage letter recognition is to tape letters to toys or blocks. LEGO Duplo is great for this, especially once kids have moved on to making words from letters, because the blocks link together. Try incidental questions like, "Where is the D truck?" or even games where you are the traffic controller and your youngster needs to bring certain vehicles of the alphabet to designated places. If your child has a large doll collection, try matching letters to the dolls' names. Build towers in turn with toddlers, naming the letter facing you as you do.
Letter Sentences: Try making sentences where each word mostly starts with the same letter, e.g., Andrew Ant accidentally ate an apricot.
Allison McDonald of No Time for Flash Cards has 25 excellent alphabet activities you might like. This Reading Mama has lots of free printables for preschoolers, including many that are alphabet-related.
Alphabet Apps
ABC Spy HD is a free iPad app I've reviewed that encourages children to use the iPad built-in camera to find and photograph objects. The letters of the alphabet are clear and easy to see. I believe that kids are more likely to remember something significant from their own lives that's linked to a letter of the alphabet than one an adult chooses.
Another app I've reviewed, ABC Wildlife, can also be used as an alphabet book.
One I haven't reviewed yet but like the sound of is Jamaroos Musical ABCs.
Common Sense Media lists some more alphabet apps.
Alphabet Resources Online
Starfall is an excellent free website with useful alphabet activities.
ABCya.com is a game site with fairly low-key ads. It offers several alphabet games:
Alphabet BINGO
Alphabet Matching
Alphabet Slider Puzzle
Alphabetical Order
These games are suitable for young children (perhaps kindergarten and first grade) who are ready to learn the alphabet and can use a mouse. They are simple to play and offer practice with letter matching, recognition, sound and letter correspondence, alphabetical order, etc. I like that there are options for both lower and uppercase letters.
Nick Jr. has ads you can skip. It has a game called Letters with Oobi that really stresses the letter/sound connection.
Learn English Kids has Alphabet Antics, a game with both upper and lower case letters. Children must help the monkey by matching letters to coconuts.
Finally, take a look at Read Write Think's Alphabet Organizer. It's a tool that enables children to create their own little alphabet books with either multiple words for each letter of the alphabet or one word and an image.